Posted in Steinbach United
| | |
| --- | --- |
| | |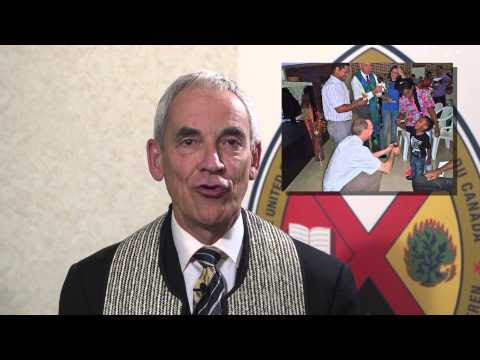 So long ago, the events we are celebrating—Easter as something that happened for Jesus some 2,000 years ago. And yet we believe, we trust, that whatever occurred back then, it speaks to us today, now—is full of promise. Easter as a verb—active, in motion; and we keep looking around, in our own lives, in the world, trying to figure out where Easter is breaking out.
So let me tell you about my visit last month to church partners in Colombia, a country filled with terrifying levels of violence as the army, paramilitary groups, and guerrillas continue their decades-long war. Kidnappings, disappearances, and murders are rampant. Over 5 million people have been displaced. And Colombia suffers from one of the highest inequalities in wealth distribution, where a handful of extraordinarily rich families are surrounded by a struggling middle class and millions of desperately poor peasants and workers. In so many ways, it's like the first-century Roman Empire.
But what is happening with our partner, the Colombian Methodist Church, is also like what occurred long ago, as small church communities spring up around the country. From 17 to 43 in the past few years; communities filled with hope, with a hunger for justice and peace; ready to be with people most in need—the displaced, the squatters, the poor.
I was invited to preach at one of these congregations, the Divine Saviour Church in Cali, Colombia's third-largest city. Not rich, that's for sure, and a mixed Sunday morning crew of Afro-Colombian, Indigenous, and others, but oh, so filled with music, kids, energy, joy, eager to respond to people's hurts. And generous—witness the gift of this stole, created by a local artist: a proclamation of life! You could feel resurrection in the air!
Which took me back to those first few Easter weeks. If there is any "proof" for resurrection, surely it must be found in the transformation of the disciples. That's the one concrete, indisputable fact we can point to. Clearly something happened to change a frightened, dispirited group of men and women hiding behind closed doors into an energized community eager to tell the story of Jesus and the incredible promise of his resurrection. This gathering of nobodies was transformed into a church, filled with the Spirit, practising compassion, working for justice, living in hope. They became the body of Christ in the world; their very existence a witness to the resurrection!
Which is what I saw, what I experienced in Cali, with the people of the Divine Saviour—an Easter moment! In the midst of fear, war, poverty, well, people were being changed as was the community. Now there was a new hope, the promise of life, the Spirit of Jesus.
And it turns out, it's contagious—as in the people of Divine Saviour are in partnership with the people of Southampton-Mount Hope United Church in southern Ontario. It's a way of sharing resurrection energy. Letters and pictures have been exchanged, visits have happened, and then the two communities joined together to raise funds for building a combined church and community centre for education and outreach for the people of the Divine Saviour. Talk about being the body of Christ; talk about resurrection becoming real, about Easter happening every day.
And I find myself asking, where else is Easter breaking out? For instance, in your church? In thousands of United Churches across the country, the body of Christ in the world, witnessing to the resurrection? Can you see it?